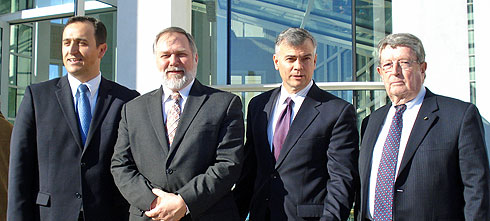 With my legal team in front of the courthouse:
L to R Harry Mihet, Me, Steve Crampton, and Philip Moran
Read Brian Camenker's extensive coverage of the hearing here:  http://www.massresistance.org/docs/gen2/13a/lively_hearing_010713/index.html
The January 7th court hearing in the case of SMUG v Scott Lively is over.  I was greatly encouraged both by the turnout of supporters at the courthouse (I'm guessing over 100) and by the comments of the judge.  You can never tell which way a judge will rule, but I'm cautiously optimistic that he will grant our Motion to Dismiss the SMUG lawsuit.  Since it was our motion, we should have gone first, but in a rare move the judge asked the other side to first explain to him exactly what they think I did in Uganda beyond speech (which he acknowledged is protected by the constitution).  All they had was a vague argument about an alleged conspiracy, with no hard facts in support of it.  They floundered under his questioning, while my attorney Harry Mihet of Liberty Counsel was sharp, articulate and exceedingly well prepared.
Judge Posner was very gracious to the attorney for SMUG but it was pretty clear that he did not think she met her burden to survive the motion to dismiss.  Still, this is a very politically sensitive case, and he might decide to let it proceed.  If he does, the next phase will be discovery.
I want to thank all who prayed for me and my legal team through this ordeal.  I have never felt quite so relaxed and at peace during such an event, even joyful.  That's clearly a fruit of all of your prayers and I am very grateful.
I am also encouraged and amazed that so many people came to the courthouse in the middle of a work day to show their support.  The judge had to open up two extra courtrooms to accommodate all the people, who watched the hearing on closed circuit TV.  The other side was also well represented but I think we matched them in numbers, and maybe even surpassed them, which is quite impressive given the huge push they made to "pack the courtroom" and the fact that this is ultra-liberal Massachusetts.
I'll keep you posted on any new developments in the case.  In the meantime, Anne and I are gearing up for the next leg of our winter tour.  My next big event is the debate on same-sex parenting at Oxford University on the 31st (which might be changed to Feb 1st).  Please keep praying for us.