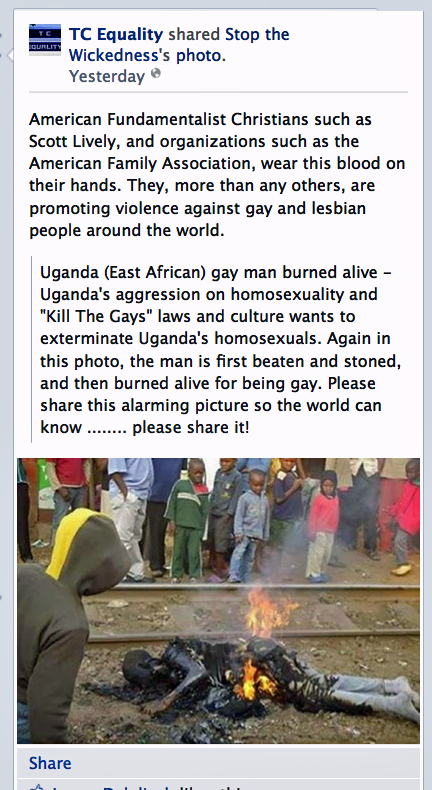 PRESS RELEASE
For Immediate Release
Contact: Dr. Scott Lively, 413-250-0984
www.defendthefamily.com
www.ScottLively.net
"Gays" Smear Pastor Lively and AFA with Horrific Murder Hoax
Springfield, MA.  Pastor Scott Lively of Abiding Truth Ministries and the leaders of American Family Association (AFA) are today demanding a retraction and apology from a Traverse City,  Michigan homosexual activist group called TC Equality which has published a horrific photograph on the Internet of an African man being burned to death while a crowd of people including young children look on.  TC Equality stated that this photograph depicts the beating, stoning and murder of a Ugandan homosexual man "for being gay" and placed the blame for this murder upon Lively and AFA for "promoting violence against gay and lesbian people around the world."  This photo and message was apparently circulated by email and posted on Facebook, with an urgent plea to "Please share this alarming picture so the world can know."
However, the gruesome picture was actually taken in the Kibera slums of Kenya and the man in question was an accused mugger and thief killed by a vigilante mob stirred up by his victims.  It had nothing to do with homosexuality, Pastor Lively or AFA.  Furthermore, the allegation that Pastor Lively and AFA have promoted violence against homosexuals is an absolute fabrication without a shred of truth behind it.    http://kevinaloo.wordpress.com/2013/05/23/crime-in-kibera/
"This is the most disgusting piece of libel by the LGBT community that I have ever seen, and I've seen a lot of it" said Lively, who was at one time the California director of AFA.  "It is as evil and Satanic as the murder that it misrepresents.   What kind of sick minds exploit such a horrific tragedy to implicate innocent people just because they oppose their political agenda?"
Sadly, this in not the first time that the LGBT community has defamed Pastor  Lively by accusing him of inciting murder.  In early 2011, Ugandan "gay" activist David Kato was beaten to death with a hammer in Kampala by his "gay" lover, Enoch Syudney Nsubuga.  However, the global "gay" activist network portrayed the Kato murder as a "homophobic hate crime" inspired by Pastor Lively's preaching against homosexuality there in 2009.  They continued to perpetuate this hateful myth even after Nsubuga, a male prostitute whom Kato had bailed out of jail to be his live-in lover, confessed to the crime and was sentenced to thirty years in prison for it.  Kato Murderer Captured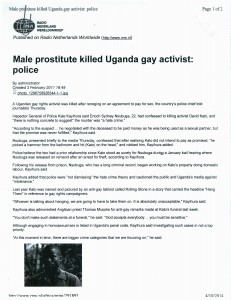 So intent have the "gays" been  in smearing Lively with false charges that they filed a federal lawsuit against him in 2012 for "Crimes Against Humanity" based almost entirely on the Kato incident —  omitting the truth about Nsubuga even to the federal judge!!   And on the day of filing the action, a group of them marched to Pastor Lively's church in a "funeral procession" carrying a giant black cardboard coffin bearing a large photo of David Kato.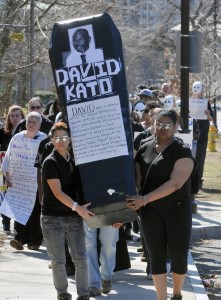 On its website, TC Equality repeats a common refrain among the "gays" that Pastor Lively promoted the death penalty for homosexuals in the Uganda Anti-Homosexuality Law (which was recently passed without that draconian penalty).  Again, these are false charges, completely without proof and contradicted by Pastor Lively's consistent public opposition to that proposed bill and complaint that the Ugandans ignored his advice to focus on prevention and therapy of homosexuality in their laws.    http://tcequality.com/
Read Pastor Lively's Letter to the Ugandan Parliament about the Ugandan Anti-Homosexuality Law and their Reply here: http://www.defendthefamily.com/pfrc/newsarchives.php?id=3261726
Ironically, Pastor Lively lives a life that would likely be lauded by the political left if he were not an opponent of the "gay" agenda.  His inner-city mission church serves many of the most disadvantaged people of Springfield Massachusetts and his congregation may be the most racially diverse and harmonious in the city.  He describes the church as a "welcoming and transforming" congregation in which everyone, including homosexuals, are welcome to attend, and he once took in a formerly homosexual man into his home where he and his wife and four children nursed him though the final year of his struggle with AIDS.
"I care deeply for those who are afflicted with a homosexual disorder," said Lively, "even those who hate and revile me.  Hollywood and the popular culture paint these sexual anarchists as enlightened and benevolent pillars of society but the Bible warns in Romans 1:29 that they are in fact malicious deceivers.   I know from personal experience that this is true.  However, I am instructed by my Lord to love even those who spitefully abuse me with abhorrent lies.  Jesus said they would hate me because they first hated Him.  I do my best to love them by telling them the truth, even as they bear false witness against me."
The LGBT character assassination of Pastor Lively began almost a quarter century ago when he first received his ministry to defend Biblical family values in society.  While serving as the Communications Director of Oregon Citizens alliance (a Christian political group) during an anti-homosexuality ballot measure campaign in 1991-1992, the "gays" painted OCA as "Nazis" bent on exterminating homosexuals.  At the height of Ballot Measure 9 a lesbian journalist who had been gently but firmly expelled by Lively from a private campaign meeting sued him and OCA for "battery," falsely claiming she had been assaulted in the process.  Although the police and DA saw through her false accusations and refused to bring criminal charges, she then brought and won a civil lawsuit, which the politically corrupt local court system assigned to a special pro-tem "judge" who was actually a corporate lawyer for NIKE, a major opponent of Ballot Measure 9.
Rather than abandoning the work to which the Lord had assigned him, Pastor Lively then wrote his first book The Pink Swastika: Homosexuality in the Nazi Party (with Orthodox Jewish researcher Kevin E. Abrams).  The Pink Swastika successfully challenged the then -national effort by the LGBT movement to fabricate a "Gay Holocaust" under the Nazis, built in part on "gay" propaganda efforts during Measure 9.  In response to their anti-revisionist scholarship, Lively and Abrams have ever since been misrepresented by the LBGT activists and their media allies as "Holocaust Revisionists," and Lively was added to the Southern Poverty Law Center's list of "hate" groups.
In consequence of the lesbian lawsuit, Pastor Lively went to law school in 1995 where he earned a degree of Juris Doctor of Law, Magna Cum Laude, and established Abiding Truth Ministries, and its subsidiary Defend the Family International, to teach Christians around the world how to effectively oppose the "gay" agenda.  LGBT efforts to discredit him have escalated over the years in proportion to his influence, culminating in their current hysterical efforts to paint Pastor Lively as a Hitlerian-style monster orchestrating a global campaign of murder and "Crimes Against Humanity."
"It's really astonishing to see the lengths these radicals have gone," said Lively. "I'm just a sinner saved by grace, delivered out of bondage to drugs and alcohol addiction in 1986 and given a simple truth-telling ministry.  ATM is my one-man, part-time ministry in a  tiny 10' x 12' office in my home, doing nothing but expose the true history and political agenda of the LGBT movement in an attitude of 'tough love.'  The thing that sets me apart, I guess, is that I don't compromise my Biblical world view and I refuse to be intimidated by the "gay" bullies.  For that, I've become the new Hitler in their propaganda.  It is surreal.  But as the Scripture says in 1 Corinthians 1:27 "God hath chosen the foolish things of the world to confound the wise; and God hath chosen the weak things of the world to confound the things which are mighty."