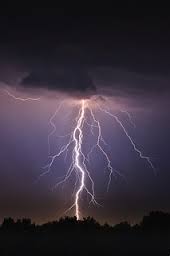 As expected, SCOTUS today declared a constitutional right to "gay marriage" by judicial fiat. I haven't read the ruling and may not ever do so since it really doesn't matter what its reasoning is. The decision is illegitimate on its face because Justices Ginsberg and Kagan were disqualified from voting under the fundamental rules of judicial ethics because they each performed same sex "weddings" during the period of deliberations when the parties were legally entitled to impartiality by the jurists.
In response to the ruling, Mr. Obama called it an example of "justice that arrives like a thunderbolt." That phrase turns logic and morality on its head as it relates to official government endorsement of sexual perversion. But I suspect it will eventually, perhaps very soon, be recognized in retrospect as an unwitting prophecy about God's punishment on America for what she has just done.
###
12:30pm  I just received an email from my ex-'gay' friend Greg Quinlan informing me that today's "gay marriage" ruling happens to fall on the anniversary of the fall of Jerusalem and the Kingdom of Judah in 586BC to Babylonian King Nebuchadnezzer: the ninth day of the fourth month of the Hebrew calendar.
"Coincidentally," in our daily chapter by chapter Bible study at Holy Grounds Coffee House that we began in Genesis more than two years ago, we arrived today at Jeremiah 39, which reads in verse 2:  2And on the ninth day of the fourth month of Zedekiah's eleventh year, the city wall was broken through.
Amazing.
###
Now consider all of this in light of Revelation 16: 17Then the seventh angel poured out his bowl upon the air, and a loud voice came out of the temple from the throne, saying, "It is done." 18And there were flashes of lightning and sounds and peals of thunder; and there was a great earthquake, such as there had not been since man came to be upon the earth, so great an earthquake was it, and so mighty. 19The great city [Jerusalem] was split into three parts, and the cities of the nations fell. Babylon the great [America] was remembered before God, to give her the cup of the wine of His fierce wrath. 20And every island fled away, and the mountains were not found. 21And huge hailstones, about one hundred pounds each, came down from heaven upon men; and men blasphemed God because of the plague of the hail, because its plague was extremely severe.