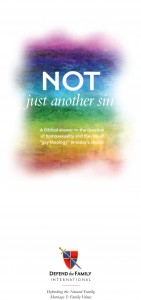 You can watch / listen to the video HERE: TV.GAB/ScottLivelyMinistries
If your purpose is to stand against the heresy called "gay theology" you may freely disseminate this brochure in electronic or printed form.  The brochure outlines the Biblical case against homosexuality from Genesis to Revelation in a chronological series of bullet points.
I expanded upon and explained how these references when taken together represent "The Forgotten Last Days Warning About Homosexuality in the Bible" in an 18-page article with that title.
The Forgotten Last Days Warning about Homosexuality in the Bible FINAL (1)
For free copies of the brochure in printed form to distribute in your community or to order copies in bulk at cost contact Dr. Scott Lively, sdllaw@gmail.com.  Donations in support of this project may be made here: http://www.defendthefamily.com/help/donate.php