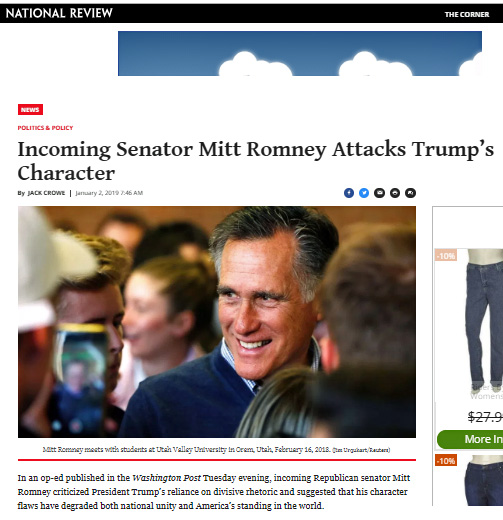 Prediction: Mitt Romney will lead GOP wing from US Senate with help from "The Most Popular Governor in America," Charlie Baker.
The elite globalists who run both political parties at the "establishment' level have, of course, worked against President Trump since Day One, but once past the mid-term elections, the campaign to force him from office entered a new and more intense phase.
The pre-Christmas take-down of the stock market by Fed Chair Jerome Powell was the opening salvo in the Purple Uniparty's united campaign against Trump in 2020.  President Trump has apparently attempted to counteract its impact on the economy by forcing oil prices down, but Americans are conditioned to judging the health of the economy by the stock market and I expect to see a series of slides and partial recoveries as the market trends downward for the next two years — with the possibility of a serious crash at the point at which President Trump is most vulnerable in the impeachment cycle, and cries for him to step down by GOP traitors are at their highest volume.
5th Columnist Romney will lead the GOP wing of the Uniparty from within the Senate, trying to force Trump from office "for the good of the country" while the Dem wing pursues its impeachment strategy. Watch for a steadily increasing flow of neo-con political figures to join Romney over the coming months,  including Governor Baker (whom I still believe will join the GOP presidential field against Trump in 2020) and a continuous magnification of their importance by the corporate media (which will gush with admiration).
Massachusetts will continue to be a hive of anti-Trump zealotry, and the exemplar microcosm of Purple Uniparty conspiracy as Elizabeth Warren and Maura Healey in the Dem wing and former Massachusetts Governor (and continuing Mass power-broker) Mitt Romney, and his boy Rino Charlie in the GOP wing tag-team President Trump using every resource of the Commonwealth against him.
In contrast, I will stand firmly with President Trump and invite you to join me.