#Gone2Far Movement to Launch Feb 5 with DC Press Conference
You Are Invited to Stand for Morality With Dr. Lively and a Coalition of Black and White Pastors and Pro-Family Leaders at the National Press Club, 529 14th Street, N.W. Washington, D.C. Tuesday, February 5, 2019, 12 noon Eastern Standard Time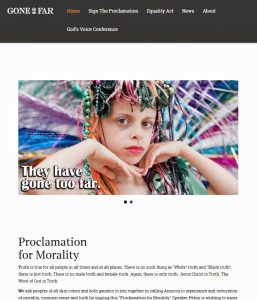 Click on Graphic Above to Read and Sign Our "Proclamation for Morality" and Consider Attending the "God's Voice" Conference Feb 23 &24
Press Release:
Equality Act H.R.2282 Threatens Religious Liberty and Free Speech
WASHINGTON, Jan. 28, 2019 /Christian Newswire/ — Scores of religious leaders, pastors, pro-life/pro-family activist, and academics have founded the Gone Too Far Movement (GTFM) and have united to challenge the attempt to hijack America's Civil Rights laws with the pending Equality Act H.R. 2282 in Congress. Rep. David Cicilline (D-RI) is the House sponsor of H.R. 2282. To date, he has 201 co-sponsors including House Speaker Nancy Pelosi (D-CA), House Majority Leader Steny Hoyer (D-MD), Black Caucus Chair Rep. Karen Bass (D-CA), and Black Caucus Dean John Lewis (D-GA).
Press Conference Details:
The Gone Too Far press conference will be held on:
Tuesday, February 5, 2019,
12 noon Eastern Standard Time
National Press Club
529 14th Street, N.W. Washington, D.C. 20045
The conference is open to the members of the press and the public.
Dr. Randy Short
Coordinator, Gone Too Far
Email: wrandyshort@yahoo.com
Cell: 202-710-4294
The GTFM recognizes that the Equality Act H.R. 2282 is a dangerous, irresponsible, outlandish, morally perverse, and socially deleterious legislation. The Equality Act poses a direct threat to religious freedom and the dignity of Blacks and women by blending the immutability of sex and race with radical-LGBTQ theories, and H.R. 2282 aims to amend 59 existing federal laws and regulations. GTFM believes that H.R. 2282 if passed, will create a dangerous legal precedent creating social chaos and legal loopholes permitting reverse discrimination, and it has the potential to establish legal protections for previously illegal sexual practices and conduct. The GTFM will issue a Proclamation of Faith opposed to the Equality Act and call for the Congressional Black Caucus to resign. The Gone Too Far Movement is bi-partisan, interracial, interfaith, and a nationwide collection of Americans who want to protect and preserve faith, family, freedom, traditional values, and to counter the movement to legalize pedophilia.
Information on Gone2Far Press Conference, The Proclamation for Morality and the God's Voice Conference
Issues:
1.
Speaker Pelosi has announced plans to pass the Equality Act.  This would add LGBTQ+ as a protected class to the 1964 Civil Rights Act.  The Bible and orthodox Christianity identify homosexual behavior as a sinful act.  If the US Government declares LGBT as a protected minority, then Christianity would effectively be criminalized and the First Amendment Void. 
2.
July 2018, the REVOICE Conference was held in St Louis supported prominently by the SBC and the PCA.  The purpose of this event was the change how Christianity approached homosexuality.  Rather than calling homosexuality a sin, it will now be treated as a "sexual minority" within the church calling on the church to help this minority flourish. 
Responses:
1.
On February 5, 2019, black and white ministers will stand together in unity behind Biblical Truth.  There is no black truth and white truth, male truth and female truth.  There is simply truth.  Truth is true for all people in all times in all places.  Jesus is truth.  God's Word is truth.  We will host a press conference at the National Press Club, for the following purposes:
a.
Dr. Randy Short and Pastor Stephen Broden will call upon members of the Black Caucus to resign for failing to uphold the moral clarity of the Civil Rights effort.  Skin color is genetic, immutable and unchangeable.  Homosexuality is a perverse behavior.  To confuse the two is a gross dereliction of duty. 
b.
Stephen Black, Paul Blair and Dan Fisher will defend the Christian's Constitutional right and Biblical Responsibility to counsel a person with Same Sex Attraction Biblically.  We will also call for Americans to sign our "Proclamation for Morality" – a bold restatement of common sense, history and facts into our postmodern world.  (www.gone2far.com)
c.
Peter LaBarbera and Scott Lively will present evidence of the homosexual agenda continuing to push in the recruitment and indoctrination of children though Transvestite Reading Hours at Public Libraries, effort to change and eliminate the age of consent for sex with minors and recruiting young drag queens to dance in LGBT clubs.  The LGBTQ+ movement has Gone Too Far. 
2.
We will be calling on Congress to reject the Pedophilia Protection Act (otherwise known as the Equality Act) and call upon Federal, state and municipal governments to reject passing laws which prohibit pastors and Christian Counselors for assisting young people who wish to resist same sex attraction. 
3.
Fairview Baptist Church will host the "GodsVoice Conference" on February 22 & 23 in Edmond, Oklahoma.   An orthodox, Biblical response to the heretical Revoice Conference will be held for a live audience and livestream.  (

www.godsvoice.us

)
Our Organizing Committee Consists of: 
·         Paul Blair, President, Reclaiming America for Christ / Co-pastor, Fairview Baptist Church of Edmond & Liberty Church of Orlando
·         Stephen Black, Executive Director, First Stone Ministries
·         Pastor Stephen Broden, Senior Pastor, Fair Park Bible Fellowship, President Protect Life and Marriage Texas, National Pro-Life Coalition, Dallas, Texas
·         Randy Short, International Human Rights Association for American Minorities
·         Arthur Shaper, Director, California Mass Resistance
·         Scott Lively, Scott Lively Ministries
·         Dan Fisher, President, Bringing Back the Black Robed Regiment / Co-pastor, Fairview Baptist Church of Edmond
·         Brian Camenker, President, Mass Resistance
·         Peter LaBarbera, President, Americans for Truth about Homosexuality
·         Bishop E.W. Jackson, President, S.T.A.N.D. (Staying True to America's National Destiny)