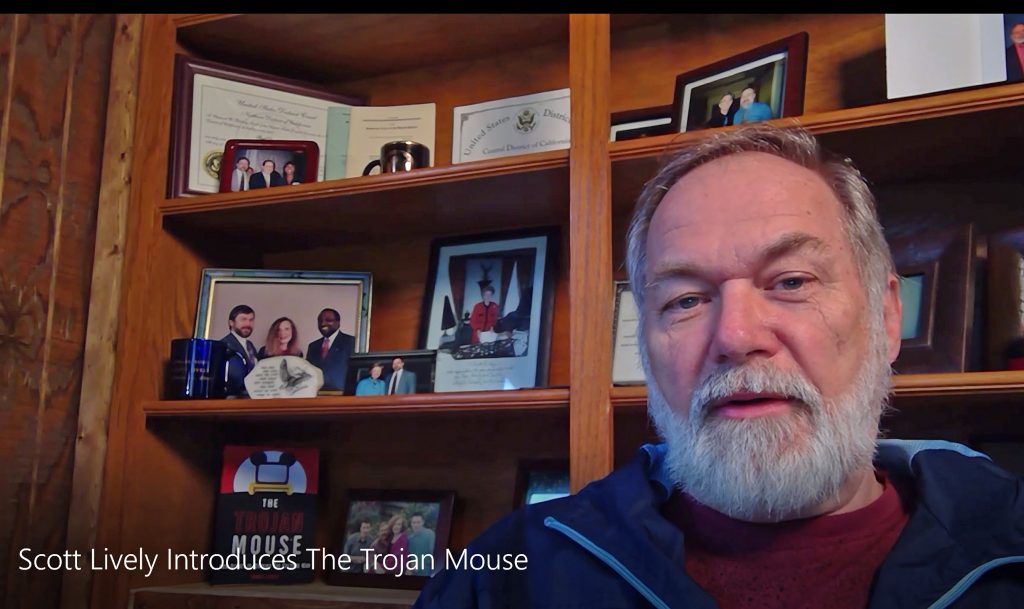 My son Samuel has written his first book, titled The Trojan Mouse: How Disney is Winning the Culture War. You can easily find it online, but I'm hoping you'll get it from me as a premium for subscribing to my ministry.
If anyone in your extended family or social circle watches Disney films this is a great resource for spotting and neutralizing the subtle and sometimes not-so-subtle leftist messaging in the films which are designed to engineer incremental social change through steering the hearts and minds of children.
Sam is a phenomenal film critic and historian, and he's done a masterful job of detailing the history of the Walt Disney company through several distinct phases, and identifying the specific leftist narratives in the enormous Disney catalogue of films – every one of which he watched and analyzed in his research for The Trojan Mouse.
Sam needs help raising awareness about the book. You can contact him through me at scottlivelyministries@gmail.com.
Sam's ministry from his early teen years has always been to have a Christian influence on Hollywood and the film industry. We saw this early on because Anne and I home-schooled our children – which frankly was the best decision we ever made as parents. We not only prevented Sam and his older brother Noah from being indoctrinated in Humanism in public schools, we had the chance to identify their natural talents and interests and actively facilitate their growth and learning along the tracks God had established in them.
As the boys were becoming more aware of the things of the world in their pre-teen years, Anne and I grew increasingly angry at the "gotcha" strategy of TV broadcasters who ran crude and obscene advertisements during otherwise family-friendly programming. There was no way to guard against it, so we shut off the TV for good and switched our family entertainment plan to classic films. Five years later, Sam was a full-fledged, home-grown teenage classic film historian who could watch 30 seconds of just about any classic film and tell you the year, plot, cast and director, and had his sights set on a career in film.
In his late teens we were living briefly in Lake Elsinore, CA. One evening Sam called for help because his car had broken down on the I-15 coming home from church youth group in Corona. When I got there, a man had already stopped to help, and I was so grateful I immediately gave him my law office business card and told him to call me if he ever needed help.
"A Christian lawyer?" he said, "I'm a Hollywood stunt coordinator and I've always wanted to have a ministry to help young people have an impact on Hollywood." A true story of God's Providence! His name was Randall Huber and I set up a nonprofit corporation for him called The Star Above, and last I knew he was doing 'USO" style entertainment for relief workers of Hurricane Katrina.
He got Sam an internship with a film company at Universal Studios. That springboarded into a script-writing Master's Degree at Cal State Fullerton, where his professor liked him so much he sponsored him to teach film there immediately after graduation.
Publishing The Trojan Mouse is the next major step in Sam career, and I ask you to help him continue aong that path by buying his book and promoting it to your friends.
However, if you make a donation of $20 or more to my ministry via scottlively.net, I'll send you a free signed copy of The Trojan Mouse and add you to my postal-mail newsletter The Lively Letter, which is how we fund our missionary lifestyle.
That's all for now. God bless you, and see you next time.